The Inclusion Club has spent the previous few months in updating and creating features. It is free to access and take part.
What's old is new!
We've been busy at The Inclusion Club – not really adding new material – but updating and tidying up the platform. All Episodes, Podcasts, videos etc have been reviewed and updated. It's been quite a job! We hope you like the new look. There's a new 'Authors' page too – hopefully encourages more people to author their own Episodes on The Inclusion Club.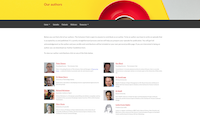 Have you got a program you'd like to showcase to the world? An idea you want to share? Some work you think is worth spreading? NOW YOU CAN. We want to make The Inclusion Club a world community platform but we need your contribution. Check out our new Authors page and get in touch if you are interested.
In 2014 IFAPA signed a Memorandum of Understanding with The Inclusion Club – a non-profit health promotion charity set up in Australian and the UK. The Inclusion Club shares models of good practice and develops resources to support the inclusion of people with disability in sport and active recreation.