Research and Community Engagement Seminar
Can active video games improve physical activity and cognitive functioning of individuals with autism spectrum disorder?
Thursday February 24th 2022
4:00-5:00 PM MST
Free on Zoom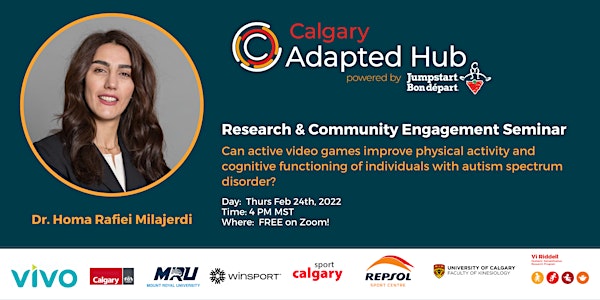 Dr. Homa Rafiei Milajerdi (PhD) is a postdoctoral associate at the Sport Technology Research Lab, Faculty of Kinesiology, University of Calgary. The Autism Asperger Friendship Society (AAFS) is a co-sponsor of her post-doctoral position. Working for over ten years as a sport and physical activity instructor she has developed a keen interest studying physical literacy. Her projects are focused on exploring innovative tools to measure and improve the quality of life for individuals with autism. To date, she has led studies investigating how various resources can be used to motivate people with autism and improve their social behaviors and encourage them to be more physically active. One area of her research examines factors that influence physical engagement for individuals with autism with a focus on active video games, social skills, motor skills, and executive functioning in children with neurodevelopmental disorders and autism. As a part of her PhD thesis, she compared two strategies of physical activity on motor skills, executive functions, and social skills on children with autism which is the main topic of this webinar.
Register from
https://www.eventbrite.ca/e/cah-research-community-engagement-seminar-dr-homa-rafiei-milajerdi-tickets-254737325197